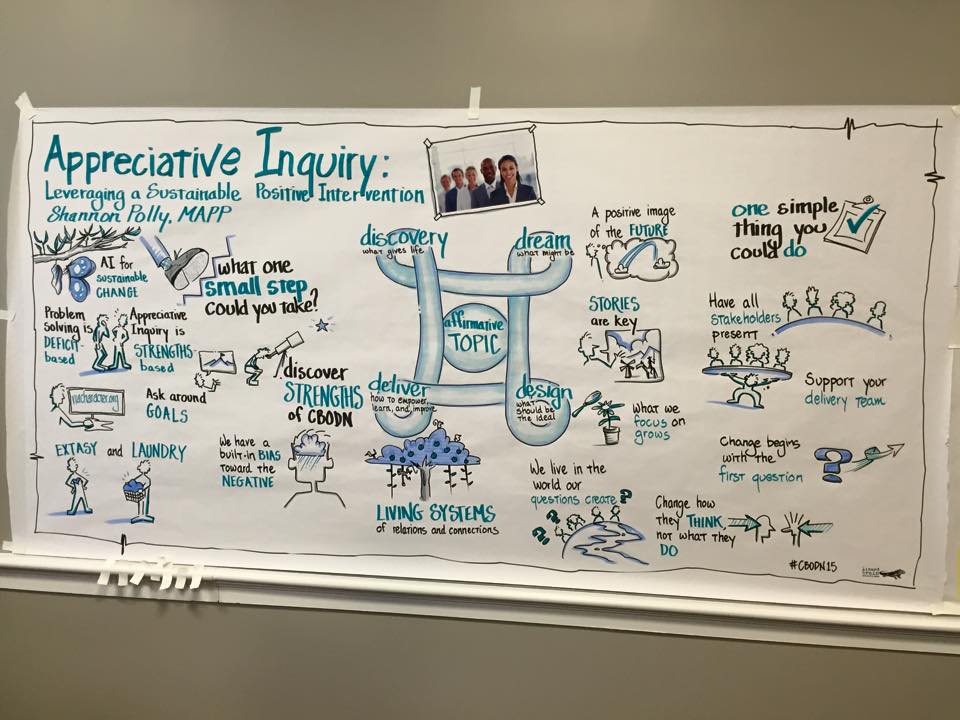 The benefits of Appreciative Inquiry (AI) glitter gold (see our previous blog post), but what do you need to assure success? While there is more than one way to host a productive AI summit, seasoned AI expert and summit facilitator Shannon Polly says that there are steps that you (or whoever would plan your AI summit) can take to prep for best outcomes:
• Know your organization – Is the organizational culture very top-down? Do you have buy-in from key leaders? Strive to get leaders on-board and solicit at least one of these people to lend their credibility to AI. This might look like a testimonial or keynote address at the beginning of the summit, and will certainly involve their participation in the four phases. If your organization doesn't believe that focusing on strengths is the best way of approaching things, an AI summit won't be useful.
• Make the time – Ensure that there is enough time to plan and execute the summit. There is no set formula on how much time you need. Consider reaching out to AI experts – like Shannon – to draft up a reasonable timeline.
• Secure the funding – As with time, there is not one financial model for making an AI summit happen. Consult AI experts, your financial team, and potential sponsors to figure out what you can afford. Modest AI summits can work, you just need to make sure that what you plan is within your means.
• Recruit the experts – You will want expertise both in facilitating the AI process, as well as in the industry itself. This may come from one individual, or (more likely) a complimentary team.
• Invite all stakeholders – The more stakeholders attending the summit, the better it will be. AI is a fundamentally democratic process that works best when as many organization stakeholders as possible contribute. If there are stakeholder cohorts that can't or won't participate, consider carefully whether an AI summit would be the best option for your organization at this time.
• Craft the question – Fine-tune the topic that will guide the entire summit. This will brand your summit internally and externally, and will orient the positive, transformative thinking of everyone involved. For example, the City of Cleveland has successfully used, "Sustainable Cleveland 2019: Building an Economic Engine to Empower a Green City on a Blue Lake."
• Talk about it – Many people don't know what AI is or they have misconceptions about it, making it critical that you can clearly describe for your people what AI is and what it isn't. Talk about it with all of your stakeholders, framing things in terms of their lingo and interests. Each stakeholder is wondering, "What's in it for me? What's in it for our organization?" Make sure you can address those questions! Collect data and anecdotes to back up your claims and make them real for people. As an example, here's how Shannon introduces AI.
• Know and use your strengths – Lots of practitioners leverage whatever strengths are their top strengths in order to facilitate an AI summit. Shannon names social intelligence, bravery, and creativity as qualities that facilitators can bring to the fore.
• Read the room – Ten years of professional acting experience equip Shannon to quickly and accurately read the pulse of a room. Even if you aren't a professional actor, it's important to get an in-the-moment sense of the group. This will help you to be flexible and rally energy, as well as notice and address questions and confusions if/when they arise.
• Trust the process – Shannon stresses that it's key for you to believe in the AI summit process and that you can inspire this confidence in others. Positive transformation of the whole system won't happen until the participants are open to it.
If you cover these bases, you'll be well on your way to launching an AI summit that will spur your organization's positive transformation. Be the catalyst! Reach out to AI expert Shannon Polly to start the revolution.